Discover more from Just Over That Next Hill
Exploring Southeast Arizona (and beyond) one hike at a time.
Hike #38 San Pedro River Loop Trail
Mojave rattlesnakes, open mine pits, and bear tracks, oh my
This hike took place on Saturday August 7th
This almost wasn't going to be something I could count towards one of my 52 hikes as it rained pretty hard on Friday night, so my initial instinct was to head back to Carr Falls. But for some reason, the falls weren't running, so I decided to hike the river trail near Fairbanks. My plan was to hit the Fairbanks Cemetary, and the Grand Mill before coming back down the trail near the river. It turned out to be quite an exciting (and kind of scary) day.
Although there was very little water up at Carr Falls, that wasn't at all the case down here at the San Pedro River. Sometimes it's almost nothing more than a tiny trickle of a creek bed, but today it just about qualified as an actual river.
Because the there was so much water in the river, in places it had also washed up over the trail. As a result, I had to go off-trail and into some washes more than a few times. It was also very overgrown, with the grass sometimes up to my thighs. That this might be something I should be concerned about was not obvious at the time.

As got closer to the cemetary, I saw the first snake just laying very still in the middle of the path. I thought it was dead, so got pretty close to it so I could take a few pictures with my phone.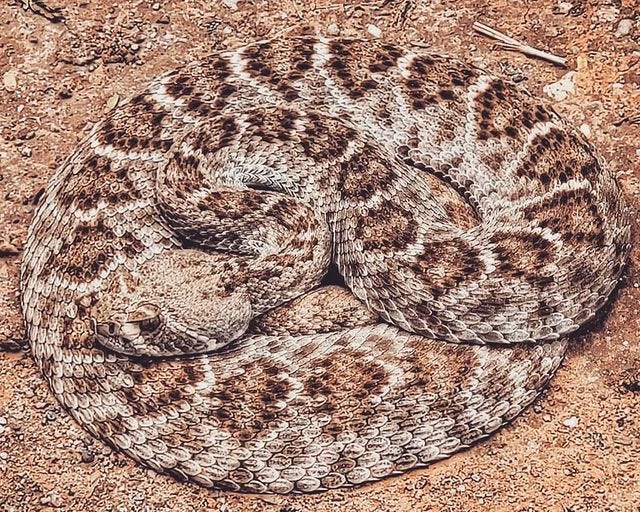 I then continued on to the cemetary, with a plan to poke the snake with a stick and maybe even put in my backpack and take it's dead body home with me if it was still in the path when I came back.
I bet you can guess what happened when I came back down that trail …

Yep, the snake was gone! At first I thought it might have been eaten by an animal, but there were no signs of that at all. That was was a live snake that I had just gotten way too close to 15 minutes earlier! The thing is, it never moved at all. It was a little chilly on Saturday morning and the sun was just barely over the horizon, so the theory is that it was still not warmed up enough to (want to) move.
Thinking this was a little weird, but kind of exicting I continued on to the mill.
It was shortly after this that I came upon another snake that definitely wasn't sleeping, and also appeared to have the distinctive wider white tail bands of a Mojave (but it's still possible it was just a Diamondback).
This one rattled and hissed a little bit before I got there, so I was able to stop and give it a wide berth while it crossed the trail. I also had enough warning to get a few pictures and a video … but from a safe distance this time. This was becoming a pretty cool hike. I can't remember the last time I saw two snakes in an hour.
Continuing on, I explored a couple of open mine pits.
And saw the bear tracks that had orginally inspired me to come out here (there have been recent sightings).
After the bear tracks, I was at a portition of the trail that was really washed out, so I was bushwacking my way through the weeds for a bit. I finally got back to a point where I could walk on the trail again, when right next to the trailsign was rattlesnake #3. This one was big, mean, mad, and no doubt a Mojave. I couldn't even get a picture of this one, as to be honest I was scared shitless. Just frozen, hoping it would go the other way. Thankfully, after what was probably about 30 seconds (but felt like 15 minutes), it did eventually slither off in the brush.
Now I had a dilemma though. Remember up above where I talked about the washed out trails? Well that was definitely the situation in this general vicinity. I had a choice, I could either hike through some high grass, or maybe try to wade through the fast moving river itself. I chose the high grass. But let me tell you, I had a little PTSD from that last snake encounter. Every lizard moving I caught out of the corner of my eye caused my heart to race. I have never been this scared on any hike, ever … and that includes scaling cliffs at the tops of mountains.

After about 20 minutes of very slow and deliberate steps through the weeds I finally got to the point where I could see the railroad tressel bridge (another reason I wanted to do this hike)
The really good news about finding this bridge (besides the picture above) is that it meant there were railroad tracks I could follow back to the parking lot. If there were any more snakes along the way, at least I was likely to see them.
I eventually made it safely back to the parking lot. But I vowed right then and there that I will NEVER hike this trail at this time of year again.
Thanks for reading Just Over That Next Hill! Subscribe for free to receive new posts and support my work.
This is part of my 52 hikes in 2022 series. If you'd like to see where else I've been, this post lists them all: